Tools
ETF & Fund Tax-Efficiency Chart Tool
Tax-efficiency is a topic not always understood and often overlooked by investors, this chart will help you determine if your ETFs are in the right account type. For example, some investors hold U.S. equity in their RRSPs to avoid withholding tax on U.S. dividends, but if you hold the wrong ETF, you may not get this perk!
Sign up here to get full access to this tool.
Tax-Advantage Tool
This tool helps investors determine their optimal RRSP, TFSA and Non-registered account allocation mix. Its flexibility also allows you to run different numbers for your financial planning and discover tax savings potential based on your RRSP contribution.
Sign up here to get full access to this tool.
Download the Sector Balancing Tool
Automatically optimizes your portfolio for enhanced sector diversification.
Tell us where we should email you the tool:
*Your email will never be shared, and you can unsubscribe from updates at any time.
Why use the tool?
As many Canadian investors may know, the TSX composite in Canada (i.e. the Canadian index) is a benchmark that is not well-balanced across different sectors.
It is overexposed to commodity-based sectors such as energy and materials as well as financials. We often find that many investors in Canada have a significant home bias as well. In other words, a high amount of their portfolio is held in Canadian equities. In turn, this means that many investors' total portfolios are concentrated in about three sectors, two of which are impacted on a daily basis by actions of groups and events out of any company or individuals' control (OPEC, gold prices, etc.)
A thoughtful rebalancing of certain sectors has proven to show a significant positive impact to return based on historical return figures. The graph below shows the difference between the TSX returns and a sample rebalanced portfolio we created: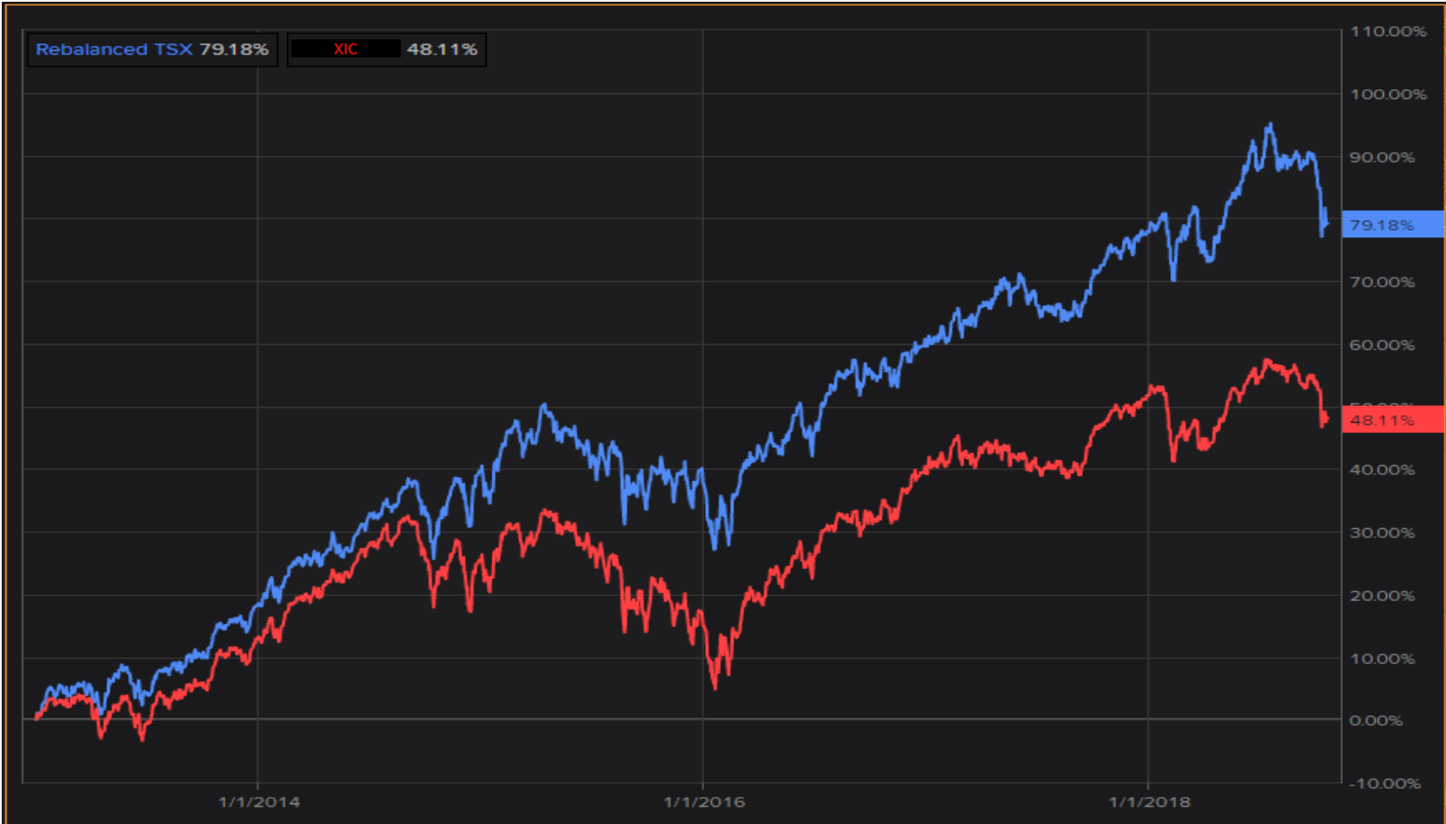 So how do you go about improving the diversification of your portfolio?
The first step is to download the Sector Balancing tool, which comes equipped with formulas to help you manage your sector allocations compared to the Canadian TSX. Here's an example:

Tell us where to send you the tool:
Have a question? Subscribe and we'll send you the full tool plus the contact information where you can ask questions.